Description
pecifications Plotter Epson SureColor SC-P20000 (C11CE20001A0)
Below you will find Plotter Epson SureColor SC-P20000 (C11CE20001A0) specifications and related codes.
| | |
| --- | --- |
| Product Code | 45654 |
| Manufacturer | Epson |
| Model | SC-P20000 |
| Part Number | C11CE20001A0 |
| Category | Plotter for Graphic and Professional Photography |
| Print Size | A0 Color Proofer 64″ |
| Technology | Inkjet |
| Number of Inks | 10 inks |
| Connectivity | Ethernet / No Wireless |
| Supported Media Types | A0, A1, A2, A2+, A2++, A3+, A3++, A3, A4, B0, B1, B2, B3, B4, 17 " (43,2 cm), 24 " (61,0 cm), 36 " (91.4 cm), 44 " (111,8 cm), 64 " (162,6 cm) |
| External Roll Diameter | Yes |
| Further Information | – |
| Warranty | 3 ETH EΩΣ 31/03/2019 |
| Price | 13323,00 € |
| Net Price (without taxes) | |
| | |
Below you will find products related to Plotter Epson SureColor SC-P20000 (C11CE20001A0).

Epson SureColor SC-P20000 64″ Large Format Printer (C11CE20001A0):  
Combine the highest printing speed and superior quality in 600 x 600dpi and higher. Designed for photo labs, high street photo and copy shops and corporates looking for an in-house solution, the SC-P20000 can create a range of high-quality photos, POS and signage.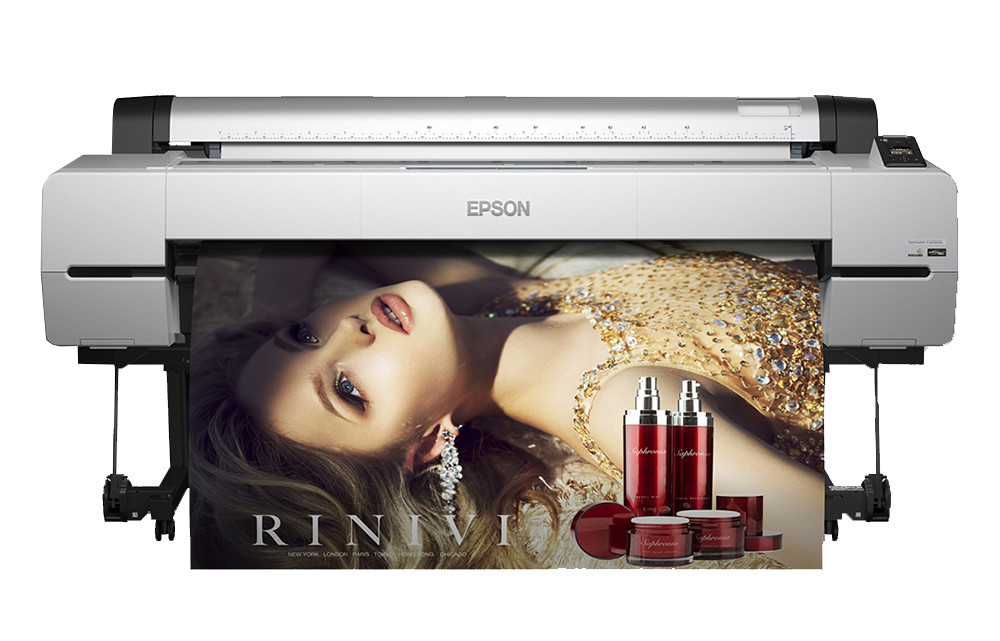 EPSON Surecolor SC-P20000 64″ wide-format graphics printer features the PrecisionCore MicroTFP printhead to achieve high productivity and exceptional print quality.  UltraChrome Pro 10-colour ink-set for excellent black and white and colour reproduction. High-precision media feed technology featuring newly developed camera- based paper feed stabiliser.
The superior performance of the SC- P20000 is driven by Epson's UltraChrome Pro 10 colour ink-set technology.  The entire P-Series printer range offer an impressive four levels of black; new high density photo and matte black inks for deeper blacks; bronzing reduction to achieve accurate colours and colour fading resistance lasting approximately 60 years on Premium Glossy Photo Paper (PGPP).
The new SureColor SC-P20000 redefines large format printing. The successor to the Stylus Pro 11880, this printers boasts an innovative combination of superior quality, speed, precision, and ease of use in one complete package.
HIGH PRODUCTIVITY WITHOUT COMPROMISING ON QUALITY:  Allowing users to benefit from high productivity without compromising on quality, the printer comes with a PrecisionCore MicroTFP printhead for producing outstanding results, even in lower-quality modes. Coupled with a high-precision media feed technology, including a newly developed camera-based paper feed stabiliser and media inductive roller system, the printer helps ensure smooth operation.
ACCURATE, PRECISE & RELIABLE RESULTS:  A new Epson UltraChrome Pro 10-colour ink-set consistently delivers fantastic- looking prints. Blacks will be deep and rich thanks to new high-density Photo and Matte Black inks. Better gradation with reduced graininess is achieved thanks to K4 and Multi Size Droplet Technology (MSDT). To ensure consistency without the need for expensive add-ons, Epson Colour Calibration utility means users can easily manage their colour reproduction.
EASY TO OPERATE & MAINTAIN:  Getting started is easy with a clearly illustrated user guide and colour LCD Panel. When it comes to handling, changing and switching media the process is quick and effortless. During printing, a transparent printer cover window and roll cover window allow users to check the print status and remaining media. After printing has finished, the position of the printhead means it can be cleaned by the user, along with the ink cap, to help save on maintenance costs. 
PRODUCT SUMMARY:
Epson's high-precision media feed technology, with newly developed camera-based paper feed stabiliser and media inductive roller system, ensures more accurate media feeding and better control.
The fully integrated and transparent colour LCD panel makes it easy to operate and allows users to quickly check the status of printing and quickly switch and change media as required.
The range comes with an automatic nozzle verification and self-cleaning technology that cleans the printhead without any user interaction, saving on maintenance costs, delivering quality high and avoid downtime.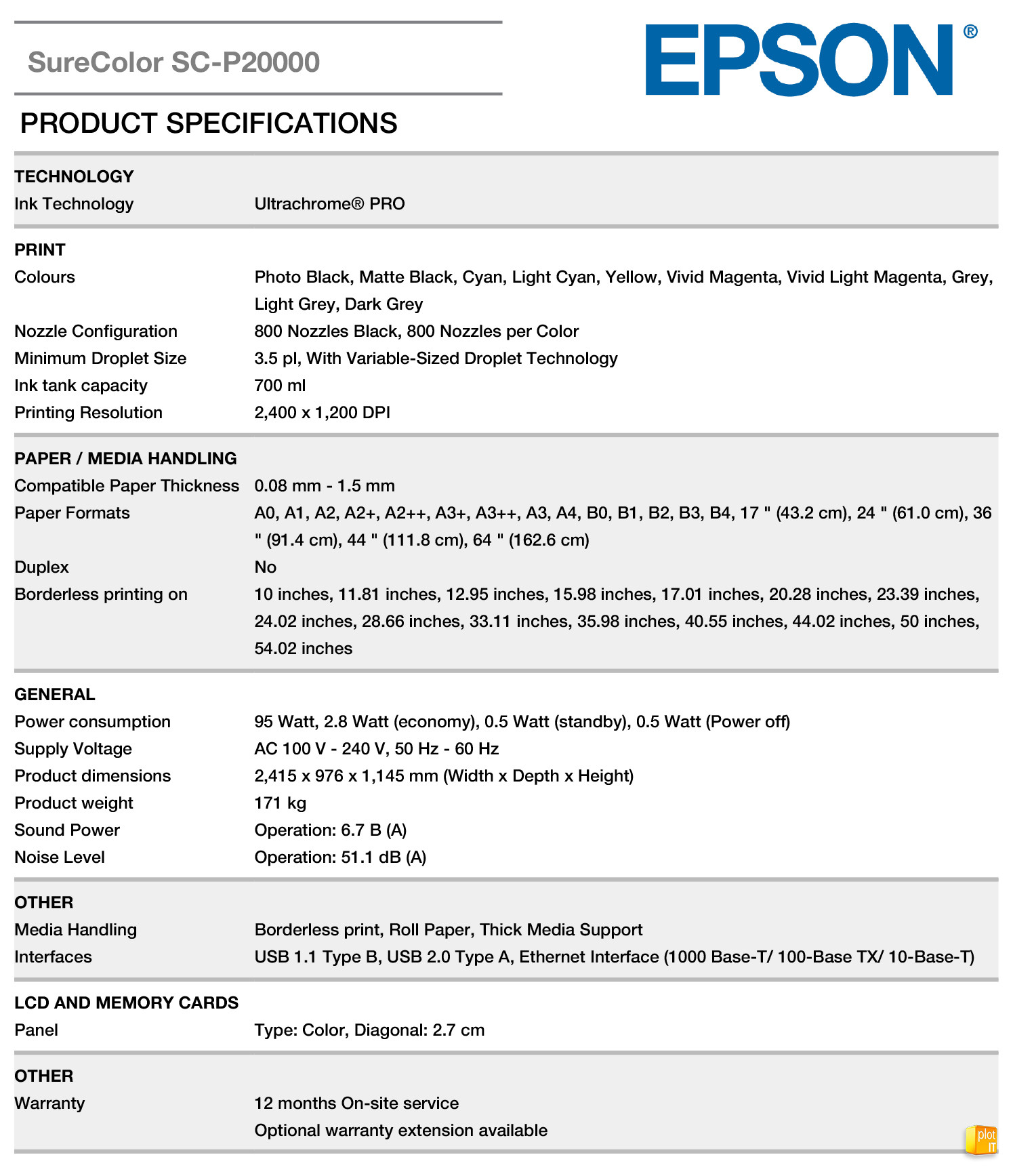 SureColor P20000 Printer
Printer Stand with Catch Basket
Spindle-free Roll Media Adaptors
Set of ten 110 ml initial ink cartridges
Internal Print Server 320GB
Ink Maintenance Tanks (installed)
AC Power Cable
User Guide Kit (Documentation and Warranty)
Software is provided via download
Ultra-Fast Drafts:  Print at up to 121m²/h (1 pass) on plain paper when speed is the critical factor.
High-Speed Poster Printing: For high-speed production on various coated media types, the 38m²/h (4 pass) and 25m²/h (6 pass) modes provide highly sellable output.
Indoor Display Graphics: The 25m²/h mode (6 pass) on semigloss or glossy media provides eye-catching photographic quality even up close.
On-demand Photo & Fine Art: Start with 19m²/h (8 pass) or move up in quality to 9.5m²/h (16 pass) for best-in class fine art production printing. Perfect for use with Epson Signature Worthy Canvas, Fine Art and Photo media.
Exhibition Quality Prints: Combine maximum quality 6.3m²/h (24 pass) with the highest quality Epson Legacy photo media for prints worthy of the world's most exclusive galleries and exhibitions.